Charlie Crane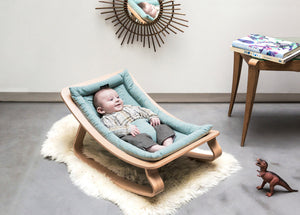 Charlie Crane is a new creator of children's furniture whose ambition is making the furniture for babies and children not only practical and comfortable, but also furniture that is beautifully designed. Charlie Crane furniture can proudly be displayed in the living room to co-exist with adults.
Charlie Crane work first and foremost with designers, particularly with the new generation of French designers that brings with it both the tradition of technical excellence, but also the openness to multiple foreign influences, particularly the influences of Scandinavian design from the 1950s and 1960s.
As well, the first Charlie Crane products (the LEVO bouncer and NOGA changing table) have been created by two designers trained at "l'Ecole Boule": Erick Demeyer and Steven Leprizé, who became reacquainted at the Agency Arca. 
Charlie Crane uses natural products, including the bent wood that helps sculpt complex forms and helps give roundness to objects and as a result their sweetness, which makes them perfect for anyone who wants to speak to children. This technique also has the advantage of being much more precise than merely the assembly of pieces of wood, which allows us to offer parts of excellent quality at an affordable cost.
Charlie Crane